Total Time: 5 minutes
Create new Google Search Console Domain Property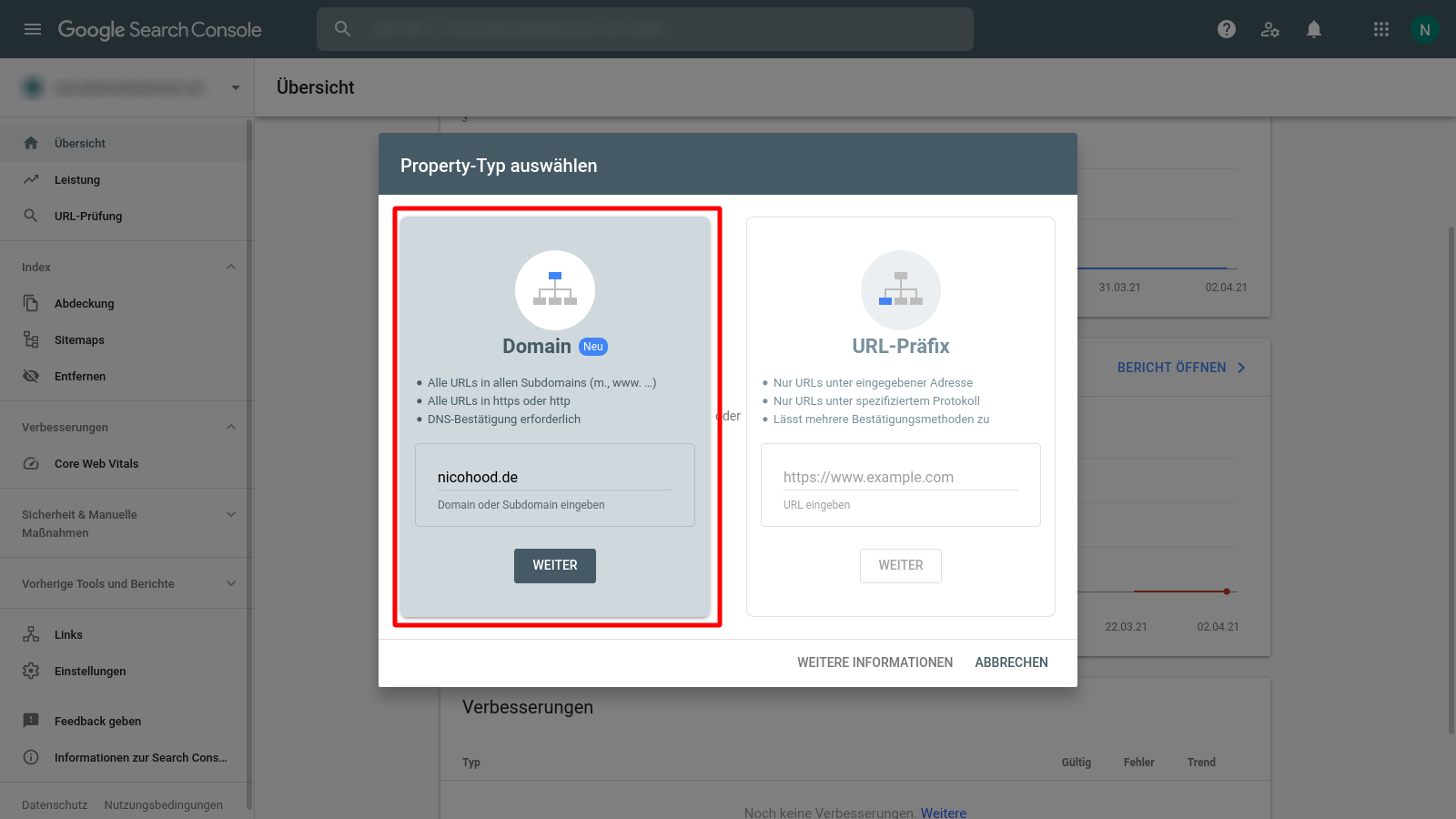 Go to your Google Search Console and create a new Property on the left side. Select the "Domain" option and enter the domain name without any prefix (like blog.nicohood.de -> nicohood.de).
Copy Site Verification Code
Copy the Site Verification Code to your clipboard. You can leave the dialog and come back here later.
Login to Netcup CCP
Log in to your Netcup Customer Control Panel, not the Hosting Panel.
Open "Domains"
Click "Domains" on the left side to see a list of your Domains below.
Open DNS Settings
Click on the small search icon on the left side of the desired domain entry and select the DNS Tab.
Create new TXT DNS Record
Create a new entry with hostname "@", type "TXT" and paste the Google Site Verification code to the "destination" field. You can keep any existing TXT entries, they will coexist properly. Hit the save button below and confirm the warning dialog.
Complete Verification in Google Search Console
Wait a few minutes or in worst case a few days. You can always come back to the Google Search console and check if your property was confirmed. Congratulations! You domain is now confirmed for Google Search Console and ready for any further actions.
Why is DNS Site Verification useful?
DNS Site verification gives you the flexibility to monitor all subdomains of your domain with a single verification. E.g. blog.nicohood.de and nicohood.de.
If you ever want to change the content of the website (like switching from a static site to WordPress), no further steps are required and you will never lose the tracking.
Continue Reading
5 EUR Netcup Coupon
You can use the Coupon 36nc16080478410 to get a 5 EUR discount at Netcup. I highly recommend the special offer "EiWoMiSau" which I am also using.